'Heather Booth' director highlights life of social activist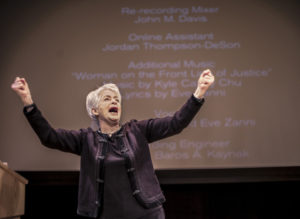 Change.  It's vital to our growth as a nation.  Over the course of the last 50 years, one woman has been an integral part of momentous historical changes,  addressing injustices pertaining to women and minority groups.  Her name is Heather Booth.  While she is not a household name, she is the backbone of social change.  She is an organizer who has inspired, mentored and taught others to create programs and strategies for change.  From rallies on the National Mall to the Women's Liberation Movement, Booth is at the center.  Without her, our world would be a different and most likely, a more inequitable place.
Lilly Rivlin highlights this extraordinary woman in the documentary Heather Booth:  Changing the World.  Rivlin introduces us to Booth and takes us back in time to her roots in New York City and Chicago through personal interviews with this leader and those who know her best.  These interviews are seamlessly stitched together with archival footage, photographs and an audio diary to create a beautiful tapestry depicting a woman who not only changed the world, but continues to do so.
Read the article in its entirety here, published on May 18, 2016 FF2 Media